How much does a ligature-resistant drinking water tap cost in 2022?
How much does a ligature-resistant drinking water tap/basin cost in 2022?
---
Written by Jack Freestone • July 26, 2022
When planning the construction or refurbishment of a mental health environment - or indeed anywhere that occupies vulnerable individuals - it is essential that measures are put in place to ensure safety and to promote a positive safe space to reinvigorate autonomy.
Statistics show the sad truth that suicide still remains an issue in mental health enviroments. Fortunately, as awareness of this truth starts to become more widespread, today's market has begun to feature a range of innovative anti-ligature and vandalism resistant products specifically designed to grant security for vulnerable individuals.
To help spread awareness, we have put together a list of the best ligature-resistant taps/basins on the market today. By evaluating the price, key features, and drawbacks, this blog will help you choose the anti-ligature tap that best suits your needs. So, in no particular order, introducing...
---
Chicago Faucet's ELR Series-12

Pressure compensating Econo-Flo™ non-aerating spray outlet 0.5 GPM

ELR Control Box Assembly Concealed Mechanical Mixing Valve

4" fixed centres

Power supply from 120 VAC, 60 Hz to 6 VDC

Compatible with Commander™ Handheld Programming Unit; multiple field-adjustable modes and ranges

Dual supply for hot and cold water; stainless steel supply hoses included

Pre-assembled with concealed internal temperature control mixer

Polished chrome

Weight: 6.504 lb
While the key features include all available optionals, the price listed above corresponds to a "single supply for tempered water".
Championed as "a new solution for behavioural and healthcare applications", the ELR Series-12 features a rounded and sloped design to minimise ligature points. Listed as a heavy-duty, one-piece cast brass body with recessed vandal resistant outlet to withstand abuse and tampering, the design combines a modern asthetic with a robust structure. Included is a secure, compact control box that conceals and secures power, solenoid, mixing valve, and supply.
Overall, the ELR Series-12 is aesthetically pleasing with a classic ligature-resistant look and has a variety of innovative power options from LTPS (long term power system), AC (plug-in or Hard-wire), or DC (Lithium CRP2 Battery). Advertised with a variety of component options available - the price does begin to rise if you opt in for a specific power type, supply type, or finish.
---
---
Wallgate: Anti-Ligature, Anti-Vandal Solid Surface Basin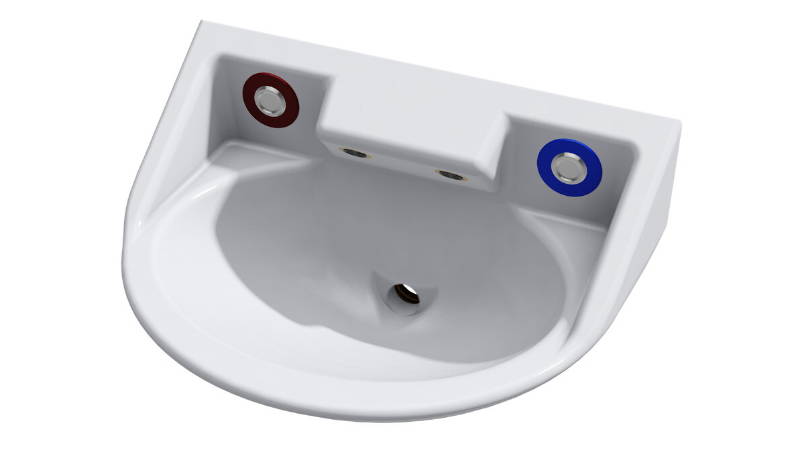 Anti-ligature design assists in the prevention of self-harm

Electronic or pneumatic activation

Highly robust

Made as one piece without joins

Easily renewable surface without a gel coat layer

Range of control options available

Concealed through-wall services and fixings

Hygienic and easily cleaned

Long lasting, proven 25 years+ product life
As a leading market specialist in design and manufacturing of robust, reliable, and innovative washroom and sanitary solutions, Wallgate has more than proven their efficiency in the mental health sector working closely with State and Territory Governments, Public and Private Health Services providers.
A design that demonstrates their own philosophy - clean, efficient and robust - this solid surface basin is built to be anti-ligature, tough in nature, and aesthetically appealing. Designed perfectly for a space or environment occupied by vulnerable individuals, the basin is manufactured as one piece and designed with clean smooth lines to avoid retaining dirt and to aid infection control.
Included in the package content is everything you need ease the installation process, including: 2 15mm copper water pipes, wall plate with rubber grommets, waste pipe, 4 M10 wall fixing studs, nuts and washers.
Regarding ligature-resistant regulations, Wallgate ticks every box.
Compact Anti-ligature Wall Hung Basin : BG20-C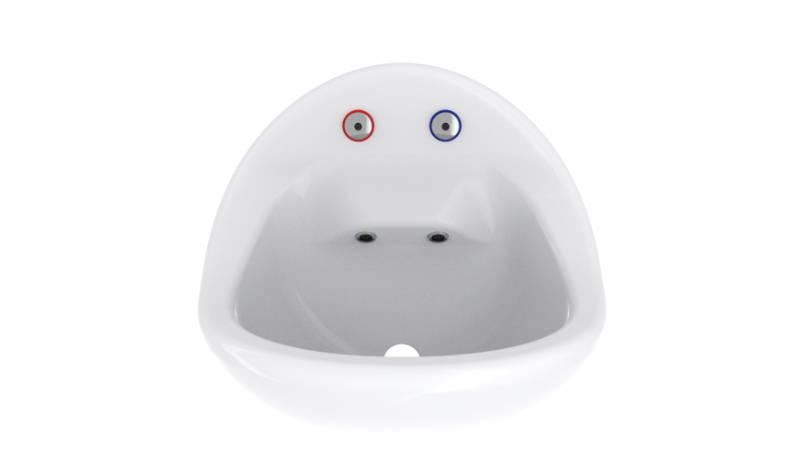 White polymer wall mounted vandal-proof sink

Integrated dual sprout is designed to be used with pneumatic, electronic or infrared controls

Specifically designed to fit into smaller areas whilst still having the same fill capacity as the standard basin

Engineered from polymer resin

Constructed to avoid ligature points where possible

Back to wall design which allows all pipework to be hidden

Available in a matt or a polished gloss finish
This wall hung basin is robust, vandal resistant and has been designed without ligature points where possible for use in the toughest environments. It is specifically designed to fit into smaller areas whilst still having the same fill capacity as a standard sized basin. The integrated dual spout is controlled using either pneumatic, electronic or infrared controls. Polymer resin, known for its industrial counterpart of naturally-occuring resin, is the base material used in the construction to solidify the robust nature of this basin - and Commercial Washrooms LTD provide a detailed insight into why they believe stainless steel can prove to be problematic institutional settings.
---
---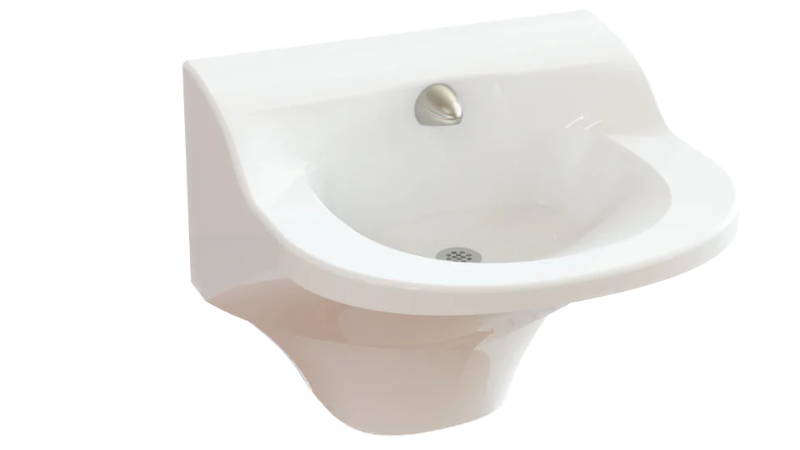 Sink in antimicrobial, white solid surface

Steel mounting brackets

Stainless steel access panel

Tail piece

Chrome p-trap

Thermostatic mixing valve for "-2" models
The Saniwave Rx is not to be used to dispense water for human consumption either by drinking or use in preparation of food or beverages. Instead, the Saniwave Rx is customised for sanitary use within a behavioural enviroment with vunerable people.
Designed to make the upkeep and quality of maintenance extremely easy, Saniwave Rx is made from a solid surface, the material is resistant to stains and burns. It cleans easily with household cleaners or fine grit sandpaper. The bowl and skirt are moulded in one piece and a stainless steel plate will enclose the fixture from the bottom. With protective optionals, the Saniwave LRHD bowl can be manufactured with an antimicrobial agent. The agent is present both on the surface and on the inside of the material and will not dissipate or scratch off. In contact with moisture, anti-microbial ions will be released and effectively kill bacteria.
Finally, the LRHD can also be activated by an optional infrared sensor. The sensor and solenoid are powered by a 6V battery or a plug-in transformer. It can also be operated by lighted piezo touch buttons or by a standard piezo touch button. The lighted piezo buttons are powered by a 9V plug-in transformer. The standard piezo touch buttons can be powered by either a 9V battery or a plug-in transformer.
Those of you with keen eyes may have spotted a similarity between the Saniwave RX and the ELR Series-12 - yes, it's all those optionals!
The price Listed above is the base cost. By adding optional extras the Saniwave RX can reach upwards to the price of £2,490.45 - so knowing what you're in the market for can really help in deciding on which optional extras will best suit your enviroment.