How much does a ligature-resistant drinking water tap cost in 2022?
How much does a ligature resistant drinking water tap cost in 2022?
---
Written by Jack Freestone • August 02, 2022
When planning the construction or refurbishment of a mental health environment - or indeed anywhere that occupies vulnerable individuals - it is essential that measures are put in place to ensure safety and to promote a positive safe space to reinvigorate autonomy. Unfortunatley, statistics show that suicide is still an issue in mental health environments.
We known that the online world can be hard to navigate, and harder still to find the specific ligature-resistant drinking water tap that meets all your requirments. Fortunately, today's market has begun to feature a range of innovative ligature-resistant and vandalism resistant products, specifically designed to grant security for vulnerable individuals.
To help spread awareness, we have put together a list of the best ligature-resistant taps on the market today. By evaluating the price, key features, and drawbacks, this blog will help you choose the ligature-resistant tap that best suits your needs. So, in no particular order, introducing...
---
Chicago Faucet: ELR Series-12

Pressure compensating Econo-Flo™ non-aerating spray outlet 0.5 GPM

ELR Control Box Assembly Concealed Mechanical Mixing Valve

4" fixed centres

Power supply from 120 VAC, 60 Hz to 6 VDC

Compatible with Commander™ Handheld Programming Unit; multiple field-adjustable modes and ranges

Dual supply for hot and cold water; stainless steel supply hoses included

Pre-assembled with concealed internal temperature control mixer
While the key features include all available optionals, the price listed above corresponds to a "single supply for tempered water".
Championed as "a new solution for behavioural and healthcare applications", the ELR Series-12 features a rounded and sloped design to minimise ligature points. Listed as a heavy-duty, one-piece cast brass body with recessed vandal resistant outlet to withstand abuse and tampering, the design combines a modern asthetic with a robust structure. Included is a secure, compact control box that conceals and secures power, solenoid, mixing valve, and supply.
Overall, the ELR Series-12 is aesthetically pleasing with a classic ligature-resistant look and has a variety of innovative power options from LTPS (long term power system), AC (plug-in or Hard-wire), or DC (Lithium CRP2 Battery). Advertised with a variety of component options available - the price does begin to rise if you opt in for a specific power type, supply type, or finish.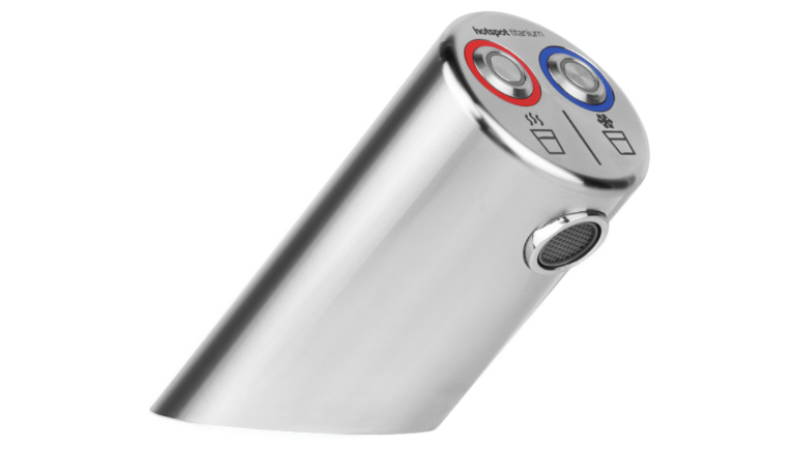 Controlled hot water

High performance chiller

Safe and solid tap

Titanium design / Stainless steel finish

Reduced ligature design

Advanced filtration system
Designed and developed with the UK care market, HotSpot Titanium's new QURA is their new advanced drinking tap that is specifically designed for every healthcare environment and can be easily fitted in any environment that's in need of special safety requirements.  
Included with their new advanced drinking water tap, QURA is accompanied by HotSpot's modular boiler and chiller so that space becomes less of an issue and the installation process is quick and allows for a retro fit.  
QURA's high performance chillers deliver their unique hydronic system - providing a fast delivery of chilled water with a very efficient cooling technique. The chiller is also made out of stainless steel to ensure a high quality and is protected by a kevlar coating to make it leakproof.
The controlled hot water feature means that the water temperature can be adjusted depending on the vulnerability and risk of the user intended location, offering a versatility in location and user friendly appeal. With the option to choose from two heater sizes to suit your demand, the heating system can provide a high capacity of instant boiling water so waiting times are at a minimum.The water is stored in a highlight insulated titanium tank providing a corrosion resistant environment that is a robust and sustainable solution for your water heater tank.    
The two-button hallo interface keeps things clear and simple. Designed with two distinctive blue and red halos coupled with symbols, the QURA system is simple to use and inclusive for everyone.
---
---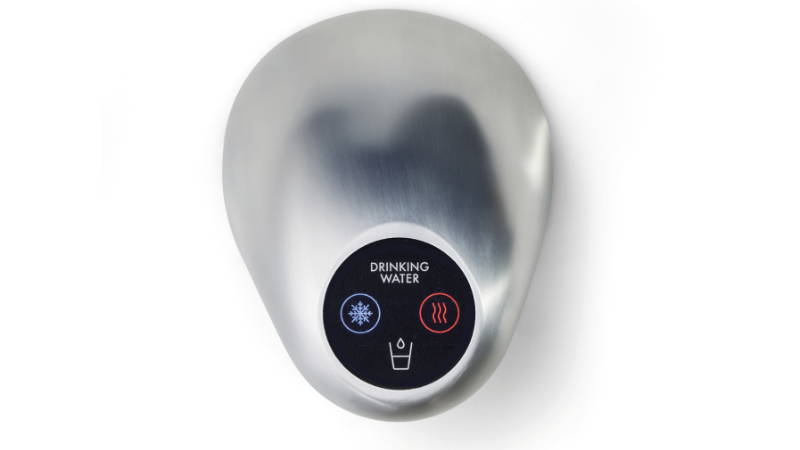 Controlled chilled & hot

Powered by ProCore®

DryChill®

Simple-fit Vent Kit

Slim ligature-resistant design
Championed as "the shallowest surface-mounted ligature-resistant drinking water tap in the world", Porpoise is specifically designed to fit into modern mental health, custodial and vandalism-prone environments.
The front control panel is constructed to be simple and effective - featuring a touch-sensitive control panel that is colour coded with accompanying symbols - the Porpoise is user-friendly and easy to use.
Manufactured and facilitated by Borg and Overström, the Porpoise is designed with the heritage of a world renowned and design-led company that has solidified their prestige amongst sustainable drinking water solutions, the relevance, the Porpoise drinking water tap comes with the perks of its heritage.
Featuring the key trademarks of Borg and Overström, the Porpoise is accompanied with the science of their ProCore/ProCore+ and DryChill. The ProCore is a compact processor for integrated tap systems while the DryChill (also known as a tankless water-cooling system) is a design feature that includes an aluminium cooling block to make the chilling process faster, and the recovery time quicker.