Aloe Vera Biocidal Hand Gel Sanitiser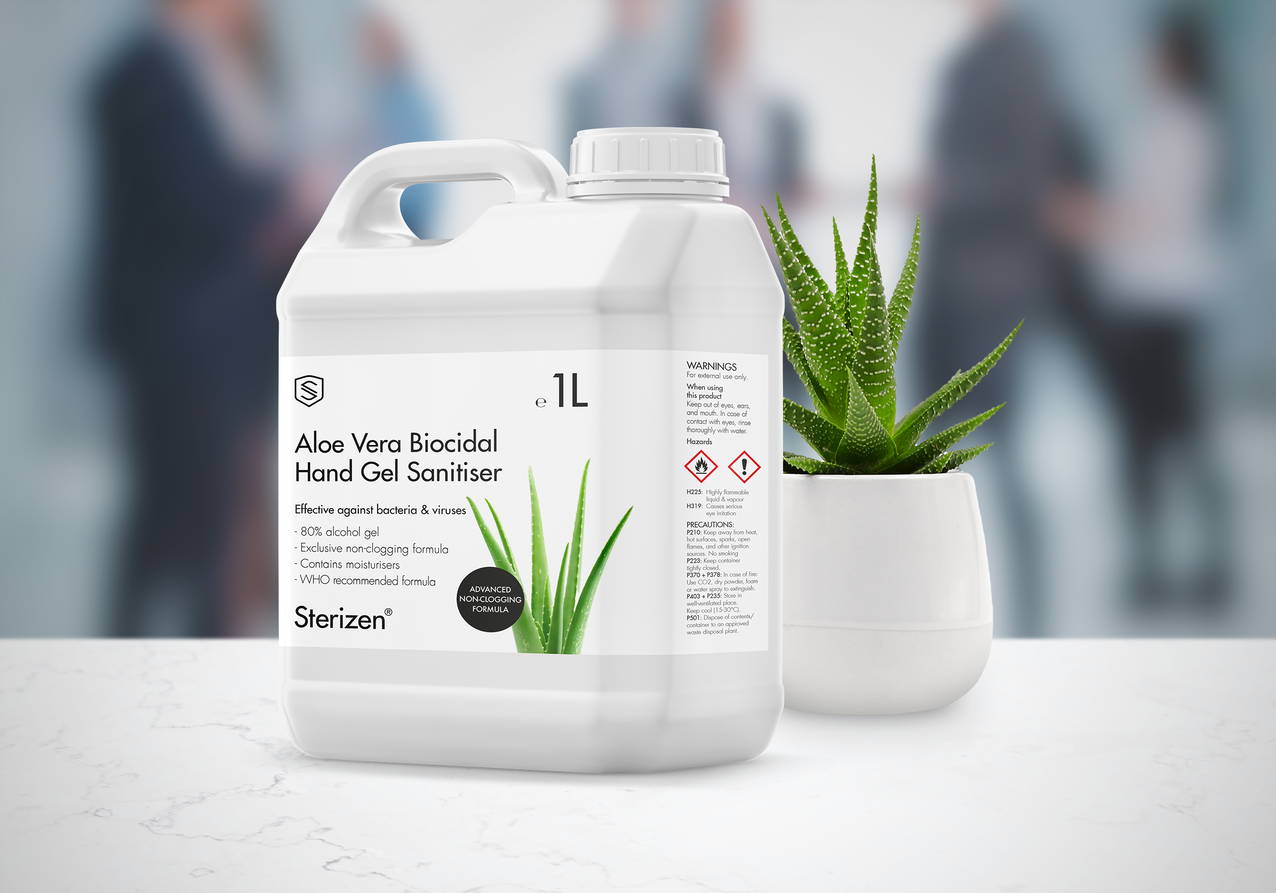 Everyone has seen, witnessed or used a messy and very unattractive sanitiser at some point, and most of the time it puts us off using it altogether. Well here at Sterizen®, we say enough!
---
Introducing Sterizen® Aloe Vera Biocidal Hand Gel Sanitiser
Our new, WHO recommended, Aloe vera sanitiser has been developed with Cambridge scientists to produce a sanitiser with the perfect viscosity. Sterizen® 's sanitiser gel utilises a new and advanced formula,  developed specifically to avoid clogging and congealing. The Sterizen® Aloe vera biocidal hand gel is highly effective against bacteria and viruses while  simultaneously perfecting the balance between hygiene protection while leaving an inoffensive after-scent. Our new and improved formula leaves your hands feeling and smelling refreshed.
Sterizen sanitiser gel eliminates the build-up that regular congealing sanitiser gel produces. This keeps the sanitiser station looking pristine for longer, and of course helps reduce the maintenance and upkeep time. These benefits, coupled with the Sterizen® X-series hand sanitiser that is programmed to automatically clean the nozzle after each dispense, results in an unrivalled solution that provides a clean, tidy, and low maintenance sanitisation unit that places perfect hygiene in your hands. Ideal for prestigious environments and healthcare settings where reputation and health is of utmost importance.
Consistent with our manufacturing, Sterizen's new Aloe vera biocidal hand gel is 100% sourced and developed in the UK. Containing an alcohol value of 80%, well beyond the WHO recommendation, our sanitising hand gel enters a higher grade tier than hospital grade and includes natural emollients that leave your skin smooth and hydrated.